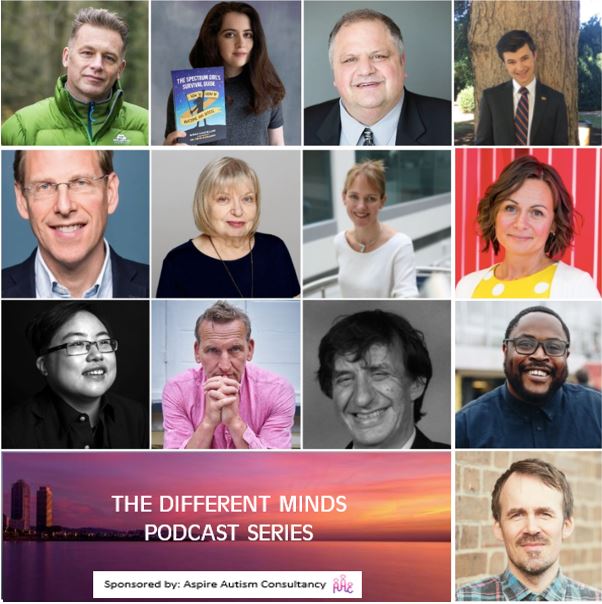 During lockdown 2020 Aspire Autism Consultancy were delighted to be asked to participate in the Different Minds podcast series. Different Minds is the brainchild of BBC journalist John Offord. Last year John decided to develop a fascinating podcast series to consider the nature of neurodiversity and discuss the unique experiences of neurodivergent individuals. Over the past twelve months John has interviewed a wide selection of guests, ranging from members of the public to well-known household names. Those interviewed include Chris Packham, Francesca Happé, Simon Baron-Cohen, Temple Grandin and Judy Singer, to name but a few.
When John first started his podcast series, he had no idea how successful it would become and how interested people would be in developing their understanding of neurodiversity and the different ways our brains work.
As well as Autism and ADHD, the topics discussed by John and his guests have included Monotropism, Aphasia, Narcissism, Obsessive Compulsive Disorder, Dyslexia, Dyscalculia plus many other fascinating subjects.
Deborah Wortman and Ruth Williams, from Aspire Autism Consultancy, were among John's first podcast guests in June 2020 when they talked about their work counselling neurodivergent individuals and couples. Since then, they have followed the Different Minds series with great enthusiasm and have enjoyed listening to the diverse range of topics which John has covered. Different Minds is now in its second year of broadcasting and Aspire Autism Consultancy are proud to announce, from 1st June 2021, they will be sponsoring this innovative podcast series.
Deborah and Ruth are excited about their new venture with John as they are passionate about raising awareness. For many years have they have been delivering quality training to families and professionals; focused on the challenges neurodivergent individuals experience. The training courses delivered by Aspire Autism Consultancy are live, interactive events. They include question-time panels with neurodivergent individuals sharing their lived experiences and offering useful strategies to help people cope with the challenges they encounter.
Different Minds have some stimulating and thought-provoking new podcasts coming up in the forthcoming series, which will further develop the subject matter and enhance a deeper understanding of neurodiversity. This is a fantastic free resource readily available to everyone. You are invited to share these podcasts with friends, family and colleagues who may also be interested in checking out the Different Minds series and choosing episodes from its extensive range of titles.
You can access the podcast series by clicking on the 'Podcast' feature on the navigation bar of Aspire Autism Consultancy's website www.aspireautismconsultancy.co.uk or from the direct link to the series http://www.anchor.fm/differentminds or download the Anchor App for IOS or Android for full details of each episode.