Ruth Williams - Counselling In Leeds
Qualifications
BA (Hons), PG Dip. in Counselling & Psychotherapy, LCPD Diploma in Clinical Supervision and LCPD Cert. in Couples Counselling.
About Me
My Practice is based in Bramhope, North Leeds in a peaceful and discreet location.  I also see clients in Leeds City Centre at The Practice Rooms, 45A Park Square East, Leeds, LS1 2NP.
I am trained in the Relational approach and I work in an integrative way, using a range of humanistic models which allow me to cater for the individual needs of clients and couples.  In addition to my professional training as a counsellor, I have attended many courses aimed at supporting clients who are autistic or diagnosed with co-associated conditions such as ADHD.
My Beliefs
I believe that the therapeutic relationship is central to the counselling process, helping clients to explore ways in which they relate to themselves and others.  The therapeutic alliance is based upon equality and trust, enabling individuals to feel respected and safe. This balance helps to facilitate psychological growth and provides a platform on which clients can work towards making positive changes.
Some of the issues I support clients with include:-
Anxiety
Depression
Self-Harm
Obsessive Compulsive Disorder
Post-Traumatic Stress Disorder
Relationship Difficulties
Parenting Support
Family Conflict
Bereavement
Sexual Abuse
Autism & ADHD Counselling
Ruth provides a specialist Autism and ADHD counselling service which offers therapeutic alternatives to adolescents and adults for whom traditional counselling practices may not be suited.  She takes time to get to know her clients before developing a bespoke approach which suits their individual needs.  Ruth works in a calm setting with comfortable seating and soft lighting.  She recognises the importance of creating a low intensity environment free from distractions and noise.
Ruth helps to develop strategies for those who suffer from a range of difficulties including;-
Disorganisation
Procrastination
Impulsiveness
Mood Swings
Memory & Concentration Problems
Executive Functioning Difficulties
Intrusive Thoughts
Emotional Dysregulation.
Ruth offers pre-diagnostic Autism and ADHD screenings, together with post-diagnostic support to neurodivergent clients.  She also helps individuals who may be considering the option of a formal diagnostic assessment as well as those who may only require some assistance to improve the ways in which they manage certain aspects of their daily lives.  Partners, parents and family members may request support for themselves to help improve their relationships with loved ones and to learn strategies to help them cope with some of the challenging behaviours they encounter.
Neurodiversity in Women and Girls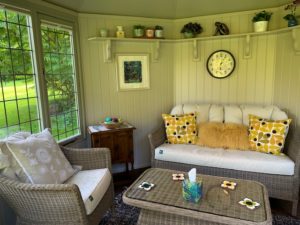 I receive increasing numbers of enquiries from female clients who believe they may have Autism and/or ADHD.  This may not have previously been picked up due to the different presentation which exists for women and girls.  Anxiety, depression and feeling overwhelmed are, for some people, 'secondary symptoms' of undiagnosed conditions.
I help my clients to find explanations for confusing behavioural responses and together we identify resolutions and strategies to address these difficulties.  It can be a great relief to make meanings for traits which may have caused years of confusion and misunderstandings.  When a person stops blaming themselves and begins to understand and accept who they are, they can start to build a more positive future.
Walking and Talking Therapy
I offer walking therapy for clients who prefer the multi-sensory experience of being outside.  This can help some individuals to feel less inhibited and enhance the 'self-discovery' process.
I have recognised that people who engage in this type of therapy often achieve dramatic shifts in their thought processes which can aid creativity and allow them to discover new ways to resolve some of their issues.  Walking in parallel with nature's visual distractions, allows clients to look forward rather than at me, which for some feels less intense.