Realcovery … Creative Action for Wellness and Significant Cultural Change
An article by Sue Bird, who was diagnosed as autistic at 40 and who, armed with that knowledge, then experienced a real recovery from huge life change and "unmaking".  They discovered how to live a life based on 'real not perfect' and went on to create 'The Realcovery Lounge', which is growing into the most incredible space, where people can just be their real selves!  Really!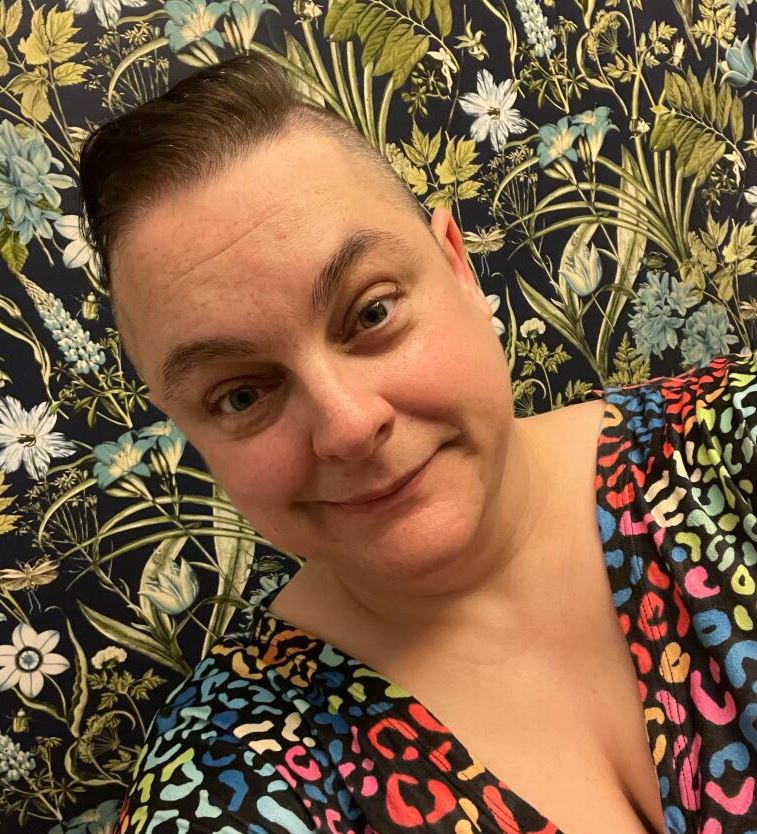 I didn't know I was autistic! or that I might also have ADHD.
I spent the first 30 years of my life fitting myself to a world that felt traumatising and difficult, and blaming everything that I struggled with on a flaw of myself. I believed in my soul that I was just a bad person, even though people would often tell me I was too nice. I packed a lot of things into those 30 years – I had two boys, one after the other, during the final year of my degree which the Uni split into two halves for me, I got married, I taught in adult education, whilst training to be a secondary school teacher, and whilst living with post-natal depression.
Then I got a job in a very big school in Nottingham. I was running on suppression and adrenaline. Muting my 'loud' and ramping up my silent shutdowns.
After a combination of life situations gave me a sudden bereavement and a heap of pressure, I woke up one morning, Xmas 2009….and couldn't move.
I had a breakdown. In hospital I was diagnosed as having Bipolar.
My family all lived in the Leeds area and so we moved, so we could be supported as I began the process of trying to rebuild me. I entered mental health services and got help from the Community Mental Health team (CMHT). Eventually, after a lot of support and work, I shifted from frozen into mobilised and I began to learn. I tried everything going……peer support, recovery groups, courses about mental health, cognitive behavioural therapy, cognitive analytical therapy, and so many more……. eventually I could volunteer, which I did at Inkwell Arts, part of Leeds Mind, and my volunteering led to employment in the CMHT, back through the doors I had once walked through as a 'service user'. Eventually, an opportunity came up to work at Leeds Mind as Peer Support Co-ordinator, Volunteer Supervisor, and Group and Development Worker. I stayed there for years and had various other roles…. the people there were my Leeds Mind family.
During that time two things happened…… Despite all my work, and looking recovered on the outside, I still felt empty within. I didn't feel whole, and I was depressed, exhausted, and struggling so Leeds Mind offered me the wellbeing budget to support me to go to therapy sessions. I chose a therapist who offered a combination of art therapy and embodied relational therapy, which I then went to for 5 years. Five incredibly eye-opening, mind-blowing years. It seems art therapy connected with my 'language' – I could really hear this, I could really see things, I could really 'hold' them, I could absorb and internalise them, I could really grow. The second thing was that I met Ruth Williams from Aspire Autism Consultancy, Ruth who co-runs this website and blog with her colleague Deborah Wortman! Leeds Mind organised, for us as staff, to attend an autism training event run by Ruth and Deborah, the founders of Aspire Autism Consultancy. I'd never heard autism described in the way they described it, particularly autism in females. They brought it to life for me, I felt it as I sat listening, captivated, with my eyes getting wider and wider……. they were describing me. Blimey.
It threw me into a whirlwind or questions and raw realisations, and eventually I contacted Ruth. After chatting, I decided to go through the diagnosis process and a year later, yes, there it was, my diagnosis. I am autistic. That happened when I was 40. Ruth truly believed in me and supported me, and I was offered the opportunity to share my difficult experience of Cognitive Behavioural Therapy, as a testimony, within the training offered by Aspire. That was the first time anyone gave me the chance to utilise my autism as a solution, and for me not to be a 'me' problem to be fixed, and it ignited something in me. Still supported by my art therapist I began to build and create………the little spark became 'Realcovery', and it became real in images, poems, stories, and songs.
I had two years of living my life in vibrant, beautiful, colourful wonder. Me, the infinite rainbow……. I got to know me; I was autistic…….'that thing happened in that way because I am autistic'. I could choose, not just live with what I was given, I could choose because I knew what the raw material of me was that I was working with. I could choose. And……. I could say 'no' too, now, to judgements, assumptions, and demands. My voice appeared, strongly………. I'd been so silent and desperate to fit in, I'd swallowed so many comments, and squashed so many gut instinct feelings, and thoughts. I stood up to people, I owned me. I got a personal trainer, I looked after my body, I ran, I ate well, I experienced all of it through my powerful sensory qualities, and I loved everything. Even pain I shaped into purpose, because I now knew how to cocoon, soothe, and comfort myself…. which gave me the head space to learn from it. My weighted blanket is awesome.
I had recorded my experiences in images, and I see patterns….and I began to see so many connections. I drew what I now call The Realcovery Model/Framework. Not just recovery, where I function and survive day to day, and don't need crisis services, but 'Real-covery'……where I truly live alive. I know how, I know it's possible…….and due to the hundreds…maybe thousands of stories of lives that were shared with me in my peer support job, I know that there is not just one way, and I also see that there are foundational patterns, for Realcovery, underneath things. Human patterns, scaffolding, and frameworks – like our fight, flight, and freeze stuff…. things that people can work within and shape with their own nuances, to make something that fits them, because it comes from them.
Two years only, that's what I had. I feel they were a gift.
In 2020, I got Covid – early on before it mutated, and before there were any vaccinations. I soon realised I wasn't getting better. It's 2022 now, I am 44, and I am still not better. I have Long Covid.
My Long Covid life meant I had to leave the job I loved, the support network I had shaped, relationships changed drastically leaving gaps where people used to be, my physical health and strength changed beyond recognition……I now use a wheelchair at times, and have days were my words slur, and I can't turn a tin opener. My art therapy ended due to the life circumstances of my therapist…. everything that I thought had been so permanent and so hard won, disappeared. I was just left with a small Facebook group, I had started, to connect with friends. Nearly all the familiar, solid ground, now more like trying to stand on water. I felt untethered, adrift, lost, stuck, terrified. My mood…. I relapsed, and back into mental health services I went. 'Have you been with us before?' I was asked. Services are under strain I know many of the beautiful humans trying their absolute best to help this world under pressure, working in such stressful conditions. I know them, they've supported me, and I've worked alongside them. I feel for them, but I needed help, and what I needed wasn't there, I felt like a tiny nearly invisible dust mote, not seen.
So, I decided to help myself. I contacted Ruth, in the hope she could see me as a client, and support me to continue to understand my neurodiversity, especially in the context of all of the huge change, and also to see if she could help me process 'loss', and incredibly she said 'yes'. With safety back under my feet, I looked to the Facebook group I had made called 'The Realcovery Zine' and began to invite more people to it……….
We were a small Facebook group……
….. that formed in the pandemic. We are the group that helped me keep my hope alive as I went through a second massive life change and 'unmaking', as big and devastating as the first – my breakdown caused by undiagnosed autism and ADHD which, through developing patterns of adjustment to cope and fit into the world, became bipolar…….this second life change as devastating as the first, when I realised that Covid was not going away for me, that I had Long Covid.
We are the group that, over time, have supported one another, and have shared our experiences of survival. We want to be heard, so we made a Zine, 'The Realcovery Zine', a self-published magazine, and we became a voice gaining strength and asking for cultural change in health services. The Zine, a way for us to share the realness of the lives we are living, a way to share our collective knowledge to support others, and a way to share something amazing…….the discovery that we all use creative action to support our wellbeing. We draw, we write, we sing, we make spreadsheets, we think creatively about how to make a meal from the two potatoes, half a cucumber, and bag of crisps we have in!
We have gained some incredible supporters, people who believe so strongly in our value and message that they are offering us support that would usually be far beyond our financial reach…….people like Kirsty Lucinda Allan
Life then gave us Rory Wells and Touchstone loves the Arts, who we are now partnered with, and the world opened up again………Touchstone is a mental health charity, and community development service in Leeds, and they believe in our creative actions for wellness, peer support dynamics, and asset-based recovery approach……..they work with asset-based community development, beginning with what people are already responsively creating within their environments, instead of identifying the problems and storming in to apply a fix developed by 'outside' eyes………and now we really are growing!
We have a co-produced statement, and my pride in sharing this is so very huge. In the midst of destruction and loss, we rise, we create, and we rebuild……from an 'unmaking' we are growing something new. We deserve this space, we've earnt it. We are diverse and amazing, many of us are autistic, many of us have long covid, many of us have experienced an unmaking and rebuilding of identity. This is who we are…..
'Creative action for wellness and significant cultural change'
The Realcovery Collective is a community, and peer support network, offering space for a holistic, creative, and individually designed approach to empowered self-shaping and growth.
It is for anybody that is going through big life changes such as long covid, breakdown, illness, addiction, and identity formation.
Supporting people to develop the skills, over time, for self-actualisation through the Realcovery Framework, and to pay it forward as powerful voices of proactive cultural change
So………
We are a group who live in the experience of creative actions for wellness, peer support dynamics, who follow an asset-based recovery approach, and who are a strong voice for cultural change within services, for all (yes, staff too) ……..hmmmmm, something less wordy?
We creatively get through the things life throws at us, using what we've already got – what is real for us, with support from others as equals, and then we pay it forwards.
Thank you for reading this! All the best, Sue and The Realcovery Team.